Helicopter flight: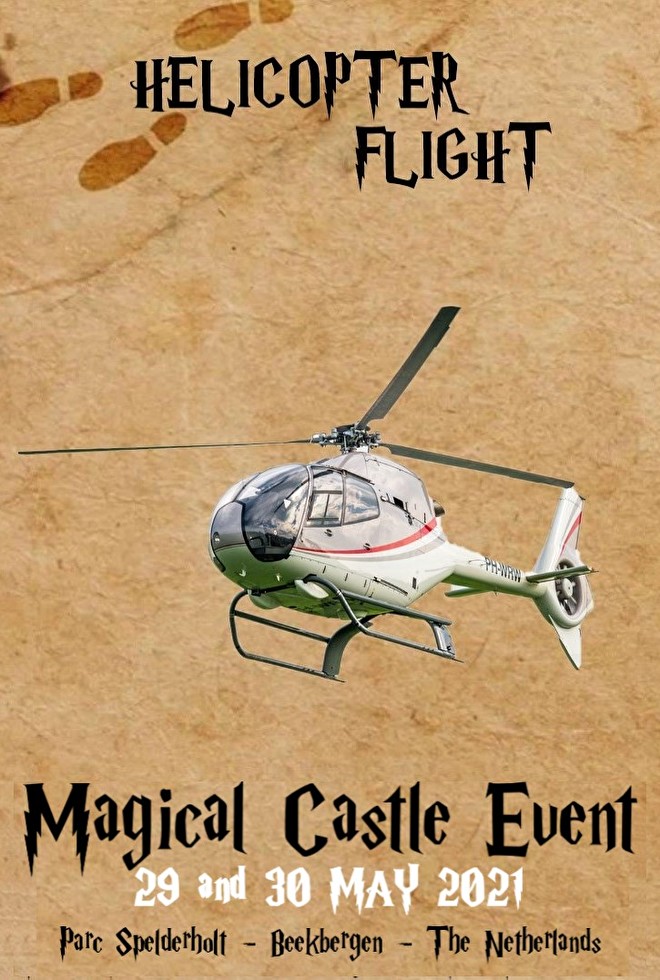 Unfortunately, muggels cannot fly on a broomstick, so we have found an alternative. A real helicopter! For this you need to buy a separate ticket. These tickets can only be obtained online via our website! Order your ticket online and hand in your order confirmation at the information desk at the event, then you will receive your airline ticket! You can hand in this flight ticket at the location where the helicopter is located. There will be a free shuttle service from the event to the helicopter.
Hand in your plane ticket at one of the employees. First you get an explanation about safety and the helicopter. Then you board and the helicopter will take off after which he will make a flight over the event grounds and surroundings. The flight will take approximately 6 minutes. After the helicopter is safely back on the ground, you can take the shuttle back to the event.
Order your airline ticket now for this unique experience! Conditions:
- Flight ticket price is in combination with a ticket for the Magical Castle Event.
- Tickets cannot be canceled or adjusted.
- From 5 years old.
- If you only want a plane ticket and no admission ticket, please contact us.
- You must pick up your plane ticket at the information desk at the event!
- You receive 2 shuttle bus tickets for the round trip to the helicopter field
- Limited offer!
Informatie:
Wij adviseren u vooraf een handtekening of photoshoot ticket van uw favoriete acteur te bestellen!
U heeft altijd een toegangsticket nodig voor het evenement om bij de acteurs te komen.
We advise you to order a signature or photoshoot ticket from your favorite actor in advance!
You always need an entrance ticket for the event to get to the actors.
NIEUWS: